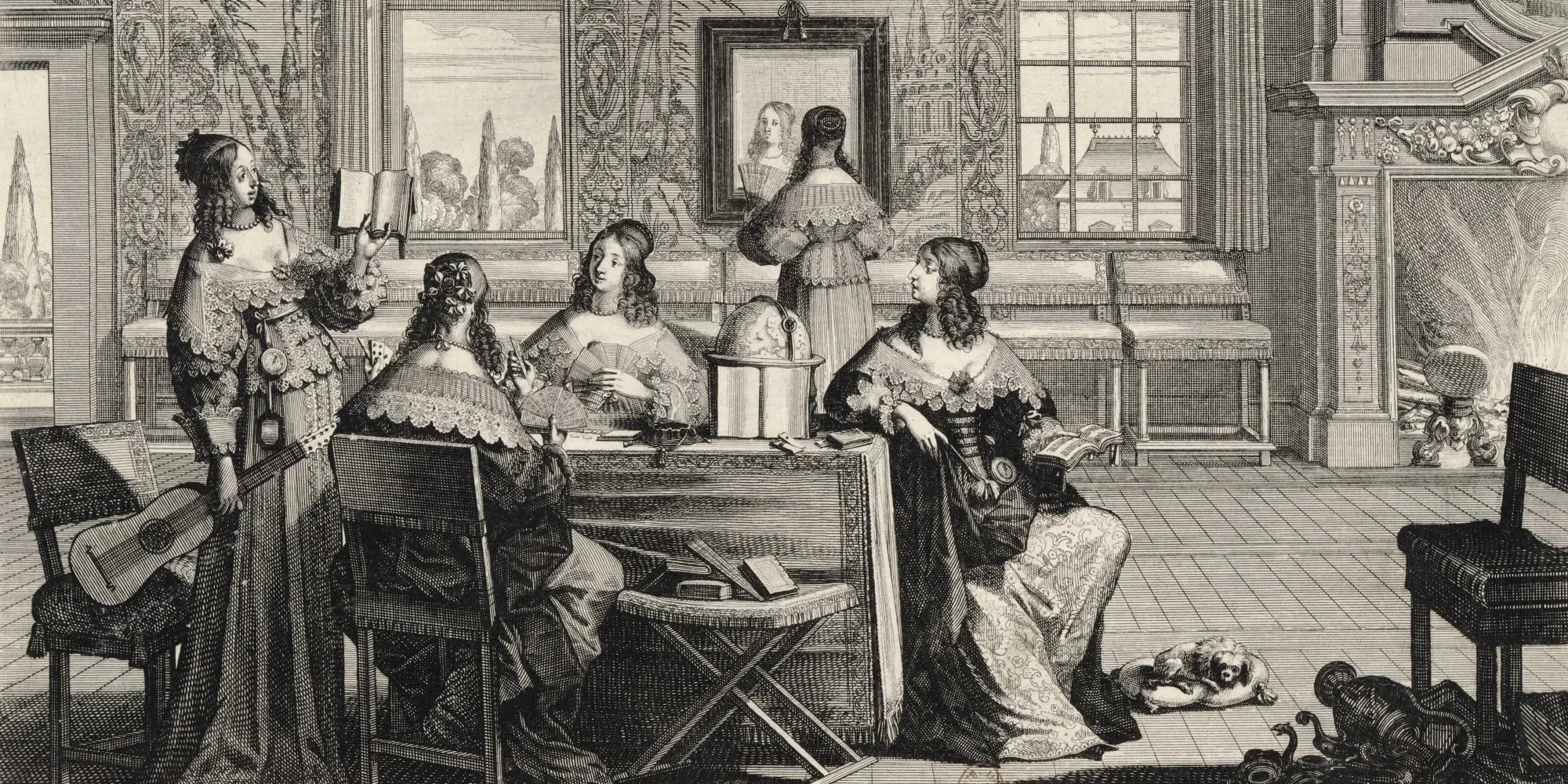 This is the style of decorum that came back into fashion under Napoleon III, like a last gasp of the art of living of the Old Regime. Majesty, harmony, and regularity are the guiding principles of French classicism. It is during this period that the "Querelles des femmes," or discussions about gender inequality, will assert themselves, and that is what transpires in this engraving, upon closer examination, anything but casual. In a somewhat disordered salon, "Foolish Virgins" engage in frivolity. Two of them play cards, another reads sheet music. They are interrupted by a fourth who holds a guitar in one hand and shows them the novel she is reading with the other. The fifth gazes at herself in the mirror placed at the back, below a painting representing Danaë. In the foreground, on the right, the lamps lie on the ground, and the oil lamp is obviously empty.
In their own way, these noble ladies illustrate the beginnings of women's emancipation in France in the 17th century. The major issue is access to education, as reflected in Molière's famous trilogy: "Les Précieuses ridicules," "L'École des femmes," and "Les Femmes savantes." If Abraham Bosse, one of the finest engravers and etchers of the 17th century, called these women "Foolish Virgins," it is precisely because the society of his time ferociously criticizes their expressed desire to have a good time and educate themselves, rather than dedicating themselves exclusively to the care of their husbands and motherhood. This is the patriarchal model denounced during the French Revolution, which would later try to regain full control during a particularly turbulent, creative, and eventful 19th century, which is actually quite fascinating.
Grand Repoussé Brass Mirror – 19th Century – France – [ME106]
We are in the era of Napoleon III, and the splendor of the Sun King is making a strong comeback. You are now looking at a perfect re-edition of a grand classic in the style of Louis XIV, the imposing repoussé brass mirror displaying all its charms:
The original central mirror is beautifully beveled.
The frontispiece is adorned with an antique bowl surrounded by cornucopias.
The three successive frames are entirely covered with floral motifs.
The corners connect it all with generous acanthus leaf motifs.
With these attributes, this mirror impresses with its size, its golden radiance, and the play of its differently oriented mirrors.
Dimensions
Height: 172 cm, Width: 108 cm
Reference: [ME106]