B like Bassinet, Emblem of BLM, Baby Liberation Movement
If the BLM – Baby Liberation Movement – existed, the rocking cradle would be its flagship. It is indeed thanks to this small private bed that the babies were able to leave their panoply of mummy tightly wrapped in bandages and the already too crowded family bed. If the standards have changed and if the ancient cradles are no longer approved, they constitute the trace of a major progress in understanding and respect for babies, which we are going to tell you about here.
Without going back to Prehistory and the supposedly fierce Ages, which were certainly much less so than the modern barbarisms which are resurfacing, the cradle symbolizes the shift in our perception of the very nature of children that occurred at the dawn of the French Revolution.
Under the Ancien Régime, babies were like mummified alive...
Under the Ancien Régime – from the accession to the throne of Henri IV in 1589 until the French Revolution in 1789 – the child exposed to high mortality simply had to be replaced if it did not survive. In order to be able to easily keep them warm and transport them, babies are swaddled in tight fabrics which give them the appearance of miniaturized mummy, as on the famous canvas by George De La Tour "The Adoration of the Shepherds" painted in 1645.
On a symbolic level, swaddling responds to the need enacted by the Catholic religion to take the child out of animality to draw it towards humanity by preparing it to be straight and upright.
This implicit refusal of our belonging to the animal world poses serious hygiene problems.
Babies were very rarely undressed, and even worse, urine being at that time considered a remedy especially against wounds, nappies were not washed, they were just dried.
This widespread practice in all strata of society seriously increases the risk of infant mortality, even when born into a wealthy family.
This is one of the ways in which we can interpret this splendid painting by Élisabeth Vigée Le Brun representing "Marie-Antoinette and her children". We see the young Dauphin Louis pointing to the empty cradle of his prematurely deceased little sister. The little "Madame Sophie" whom her mother adored and nicknamed "my crazy love" did not survive a year.
The nuclear family: a very recent invention
What is called the nuclear family, parents and children living under the same roof, this formula which seems obvious and natural to us, only became the basic unit of our societies in the 19ᵗʰ century. Under the impetus of philosophers such as Jean-Jacques Rousseau who published "Émile ou de l'éducation" in 1762, greater attention was paid to the education and health of children.
It should be noted, even if it seems paradoxical, that our good Rousseau himself had shamelessly abandoned his five children and understand that such a practice was absolutely common and accepted until the end of the 18ᵗʰ century.
It is his writings that remain and as Élisabeth Badinter so rightly points out: "Rousseau, with the publication of "l'Émile", crystallized new ideas and kick-started the modern family, that is to say, say the family based on maternal love."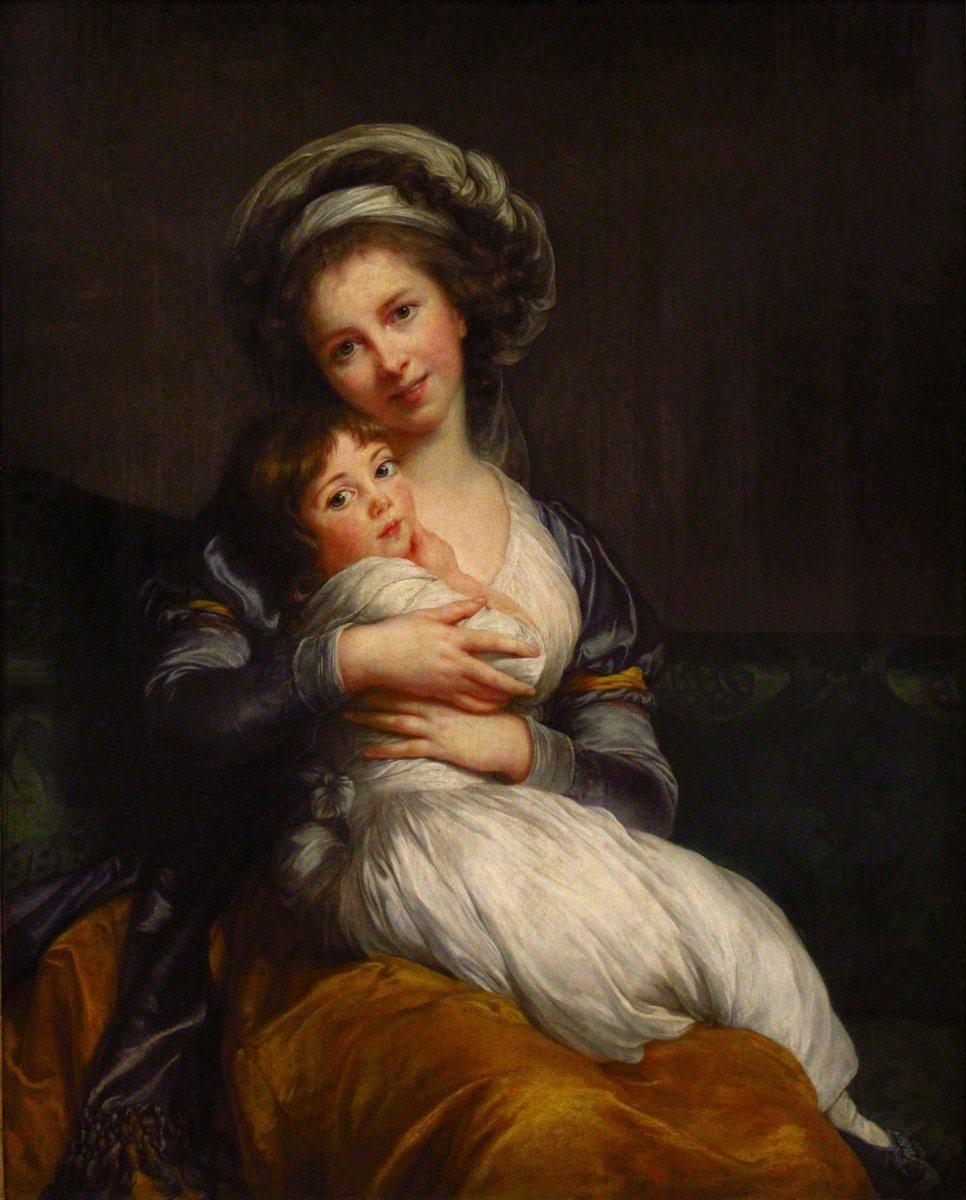 This tenderness of each moment, valued from now on, is clearly perceptible on this portrait of mother and daughter "Madame Vigée Le Brun and her daughter", painted in 1786 by the mother herself, of her birth name Louise-Élisabeth Vigée.
Down with the swaddle, long live the cradles!
In the West, the practice of swaddling was strongly criticized from the 18ᵗʰ century onwards, in particular because of its harmful effects on health.
In stride, in the 19th century, in order to definitively ban cohabitation within the same bed between parents and children, which was conducive to the risk of suffocation of newborns, cradles gradually invaded all homes. Cradles guaranteeing the well-being of babies will become an indispensable and essential piece of furniture.
From the 1850s, the mechanization of carpentry workshops, made possible thanks to the hydraulic power developed by water mills, enabled machines driven by belts to operate the cutting and shaping of wooden logs into pieces to assemble, light and perfectly calibrated.
Louis-Philippe Iᵉʳ was King of the French from 1830 to 1848. This so-called July Monarchy succeeds the Restoration. This reign is characterized by the rapid enrichment of the manufacturing and financial bourgeoisie, to the detriment of the working classes kept in extreme poverty. As a corollary, the incessant popular revolts will lead to his abdication. This regime will be replaced by the Second Republic.
In terms of furniture, the Louis-Philippe style favors comfort, with here and there references to styles of the past: Renaissance, Gothic, Louis XIII or Rocaille.
We will be able, in bourgeois interiors, to have a good time lounging in squat armchairs entirely covered in fabric, gondola armchairs with curved backs and armrests finished with large involutions, or even enjoy the comfort of Voltaire armchairs, low on feet and deep. In the same spirit, we curl up in two or three-seater sofas and stretch out voluptuously along the meridiennes.
Small daily pleasures and missions also find their dedicated furniture: commode, dressing table, barbière, knitting table, bedside or living room table, support console, pedestal table, writing furniture, flat or minister's desk, and bookcase are appearing. Warm, dark woods are in fashion.
Mahogany, rosewood and ebony, for exotic woods, compete with yew, burl walnut and wild cherry, for native woods.
It is this cherry tree from which are extracted the famous rocking cradles or rocking cots which are highly sought after today.
Berceau, barcelonnette, bercelonnette
And finally we invite you to a little reminder of etymology because, at Aux-Rois-Louis, we like to be complete.
In 1777, the "barcelonnette" designates the woolen blanket which is wrapped, in its basket, the newborn. This blanket has replaced swaddling, since the new education adopted in particular thanks to Jean-Jacques Rousseau's "Émile". This name, "barcelonnette", comes from Barcelona, the capital of Catalonia, famous in the 18th century for the quality of its woolen blankets.
In 1787, a semantic shift occurred. The barcelonnette now designates the cradle itself. The term itself would evolve to become the "bercelonnette", or small cradle, in 1834.
Not homologated but trendy, really!
Today, it is quite clear to everyone that the baby is a person who has already received a great deal of affective information that is decisive for his entire life long before he is born.
And the practice of systematic rocking – a bit like how you hypnotize a hen by making it turn, its head stuck under the wing – has revealed its limits, a fortiori in its excess.
Safety standards for the height of baby beds, the spacing of the bars, the way newborns are dressed leaving them free to move, like any normally constituted mammal baby, all these criteria have greatly evolved. That is why there is no longer any question of using, in their initial function, the ancient wooden rocking cradles which are no longer suitable for newborns in terms of safety.
However, these cribs retain a powerful charm. They are the concrete expression of a fundamental historical chapter, that of taking into account toddlers in their intelligence and sensitivity.
In a child's room, they can now be a cozy nest for cuddly toys and dolls, or simply bring a nostalgic touch to a neat decor.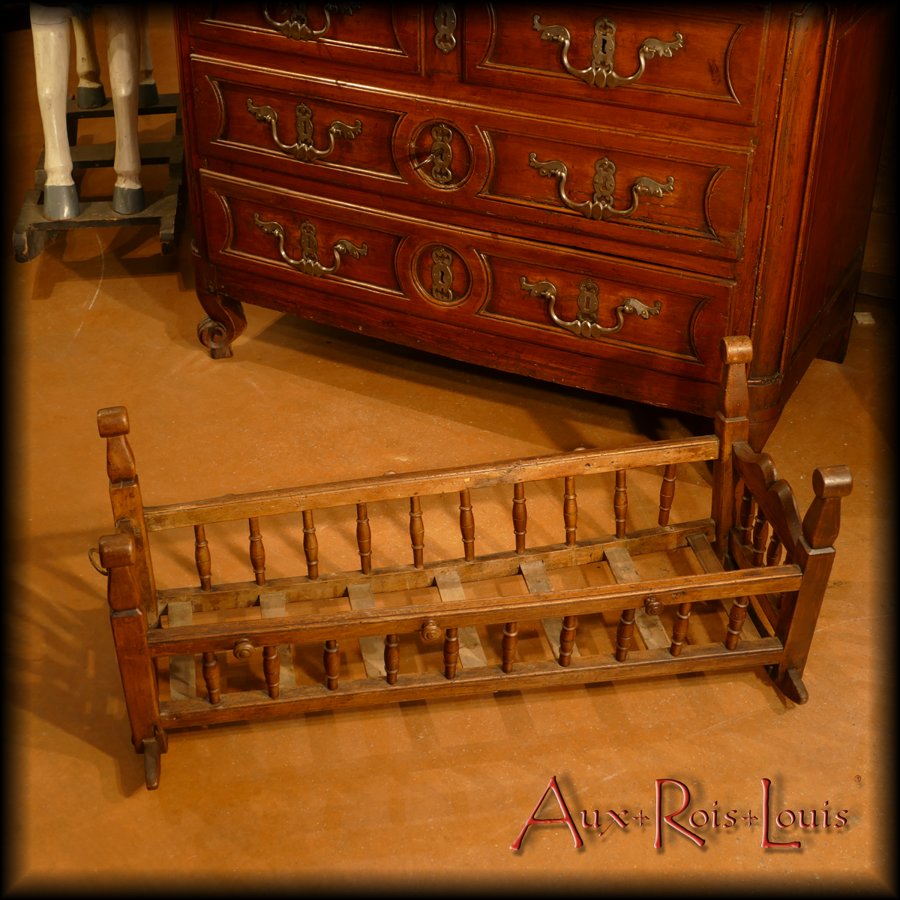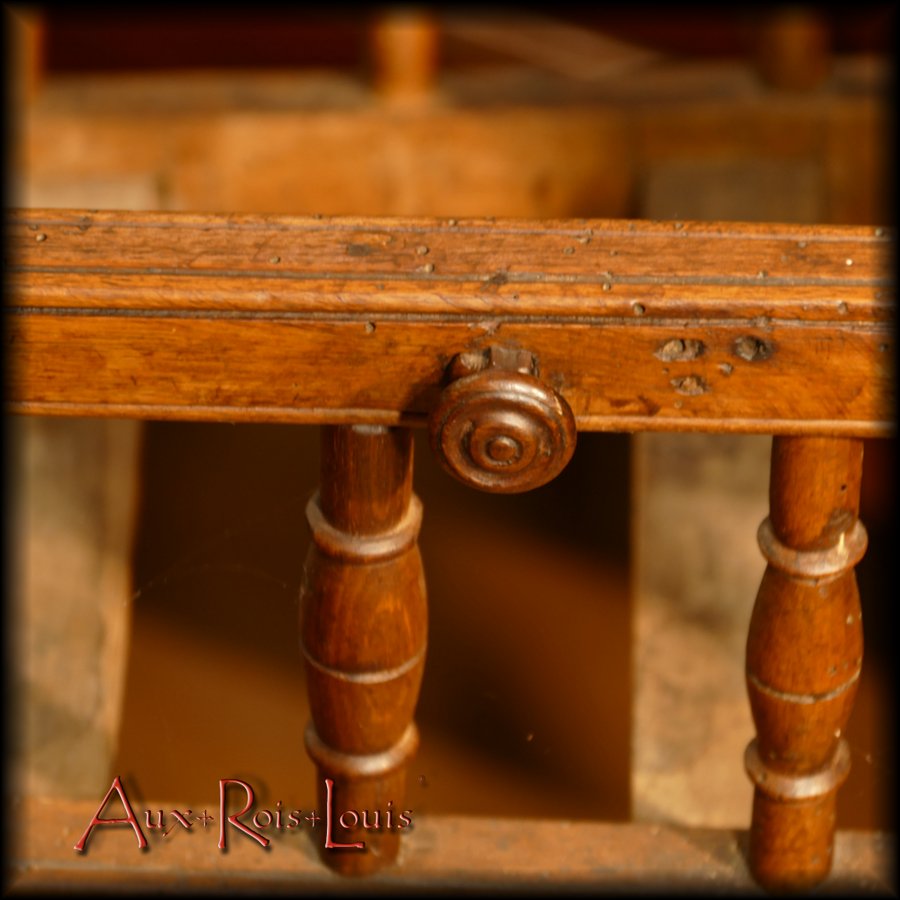 Dimensions
Width: 103 cm, height: 80 cm, depth: 49 cm.
Reference: [ME072]