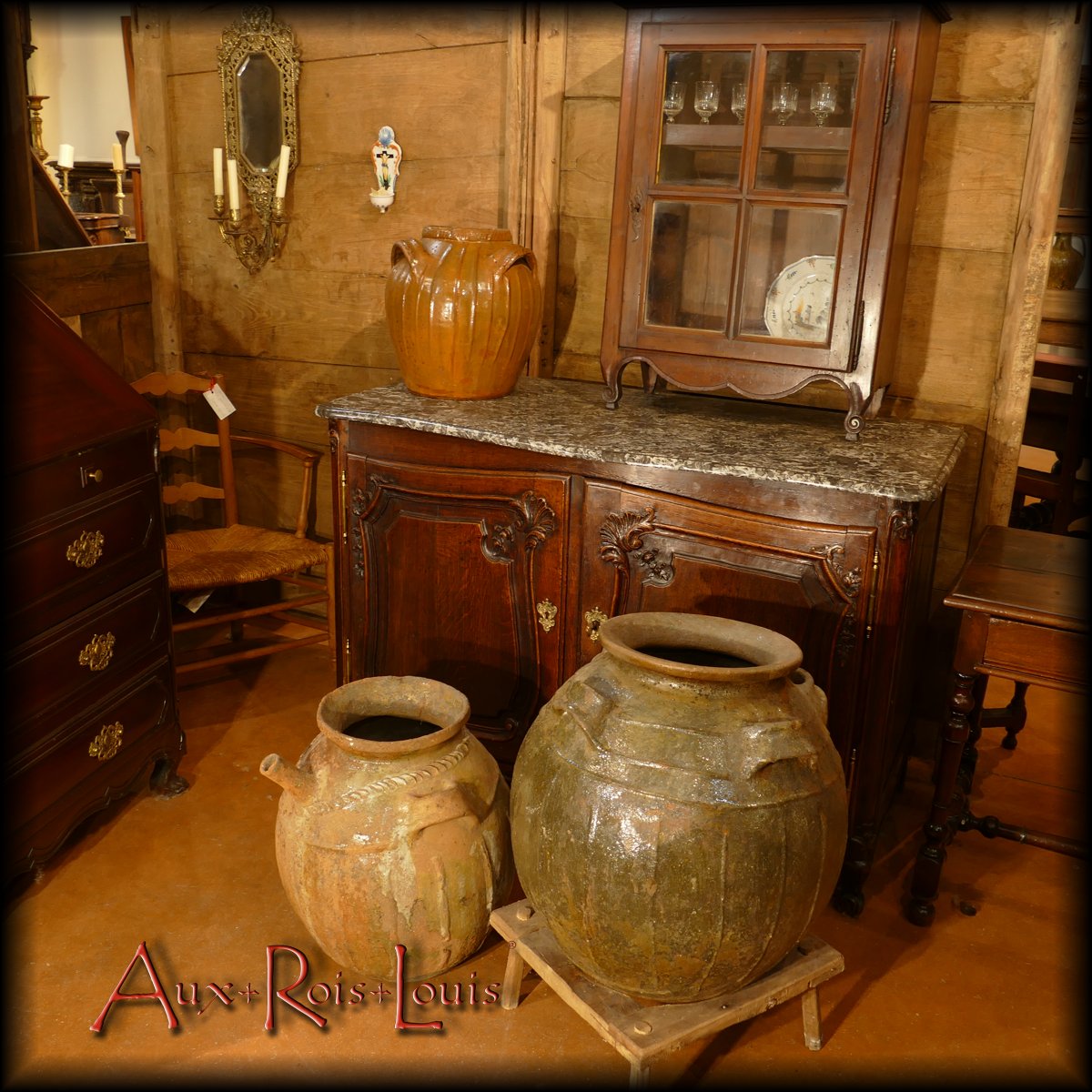 PUY-DE-DÔME: LAND OF POTTERY AND VOLCANOES SINCE THE NIGHT OF TIMES
It is on the ground of a thousand-year-old tradition that these three beautiful melards of varying proportions and colors were created. It should indeed be remembered that in the center of Auvergne, at the beginning of the Christian era, the black earths of the plains of Limagne amazed the most demanding master potters by their own qualities.
The kaolin clay that these fertile lands hold is in fact the result of volcanic lava flows from the Chaîne des Puys on the fluvio-lacustrine sediments of an ancient lake that has now dried up.
During the 1st and 2nd centuries AD, a number of pottery workshops spread over no less than 70 hectares and equipped with 500 to 800 kilns produced here the famous sigillata ceramics, intended for table service. They are all in fine red terracotta and stamped with seals – the famous sigilla, plural of sigillum – representing scenes from Greco-Roman mythology, ancient battles, fantastic animals, etc.
It is this same red clay that the potters of Puy-de-Dôme continued to use to produce the essential melards until the 19th century. These are most often large jars of walnut oil, which was used in the past to light homes. They are sometimes also large candied pots.
The elements of the design of the three melards that we present to you here bring them together, while certain particular traits differentiate them. Let's take a closer look at them.
In their "common pot", we recognize the traditional decoration of the melards of the pottery centers of Puy-de-Dôme. Namely, a circumference of vertical strips, modeled with fingers, surmounted by a horizontal strip which enshrines the pottery under its concave profil handles. The whole offering attractiveness and solidity to these large pieces, very heavy once filled.
Note that the handles are formed from sausages of earth passed through a rolling machine, which gives them this hollow shape on the top when cooked.
For these three melards, the brick red earth from the plains of Limagne which they are made of was covered with different nuanced glazes, obtained by subtle mixtures of iron oxides and vegetable decoctions. We can imagine the outbidding between potters to achieve the most innovative shades. The miracle recipe for attracting shoppers to their resolutely polychrome stalls, during the unmissable potters' markets that took place in different towns on the "Place des Oules" which was reserved for them. This denomination is still found today in many villages of Auvergne and Cantal.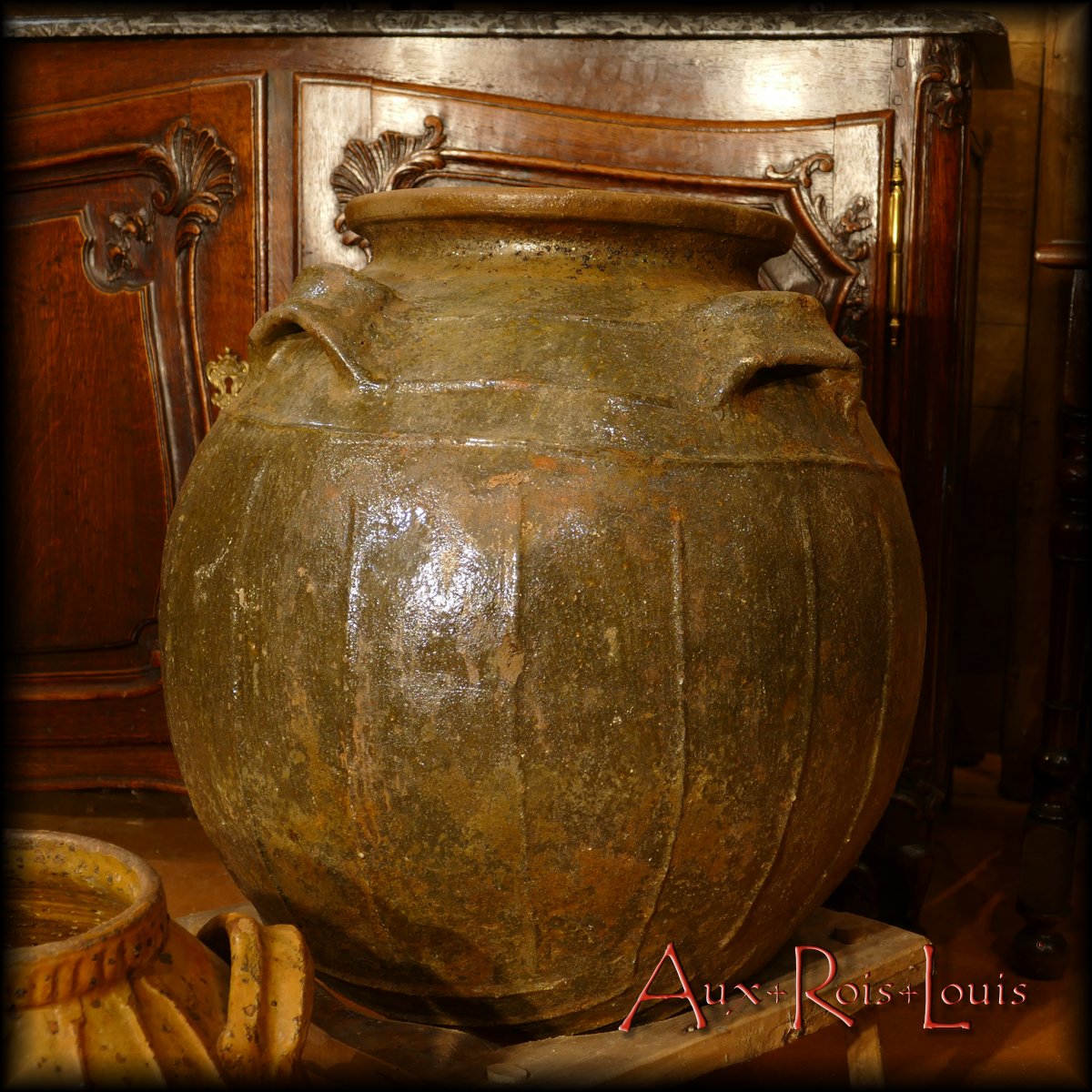 [PA065] This large melard with a very well-preserved green glaze has an originality. Its bottom is domed and reinforced with strips finger printed that allow it to roll to move it safely. An appreciable precaution when one remembers that once filled with 70 liters of walnut oil to which is added its weight, lifting it became very perilous.
Dimensions
Height: 58cm, diameter: 51cm.
[PA066] Finally, this melard with three handles and a neck reinforced with a digitized band, covered with a yellow glaze, is distinguished by its function. This is used to preserve meat previously cooked in a pot in fat. It was thus possible to preserve the bacon or the confit of geese and duck which embellished the vegetable soups of the vegetable garden throughout the year.
Dimensions
Height: 36cm, diameter: 33cm.