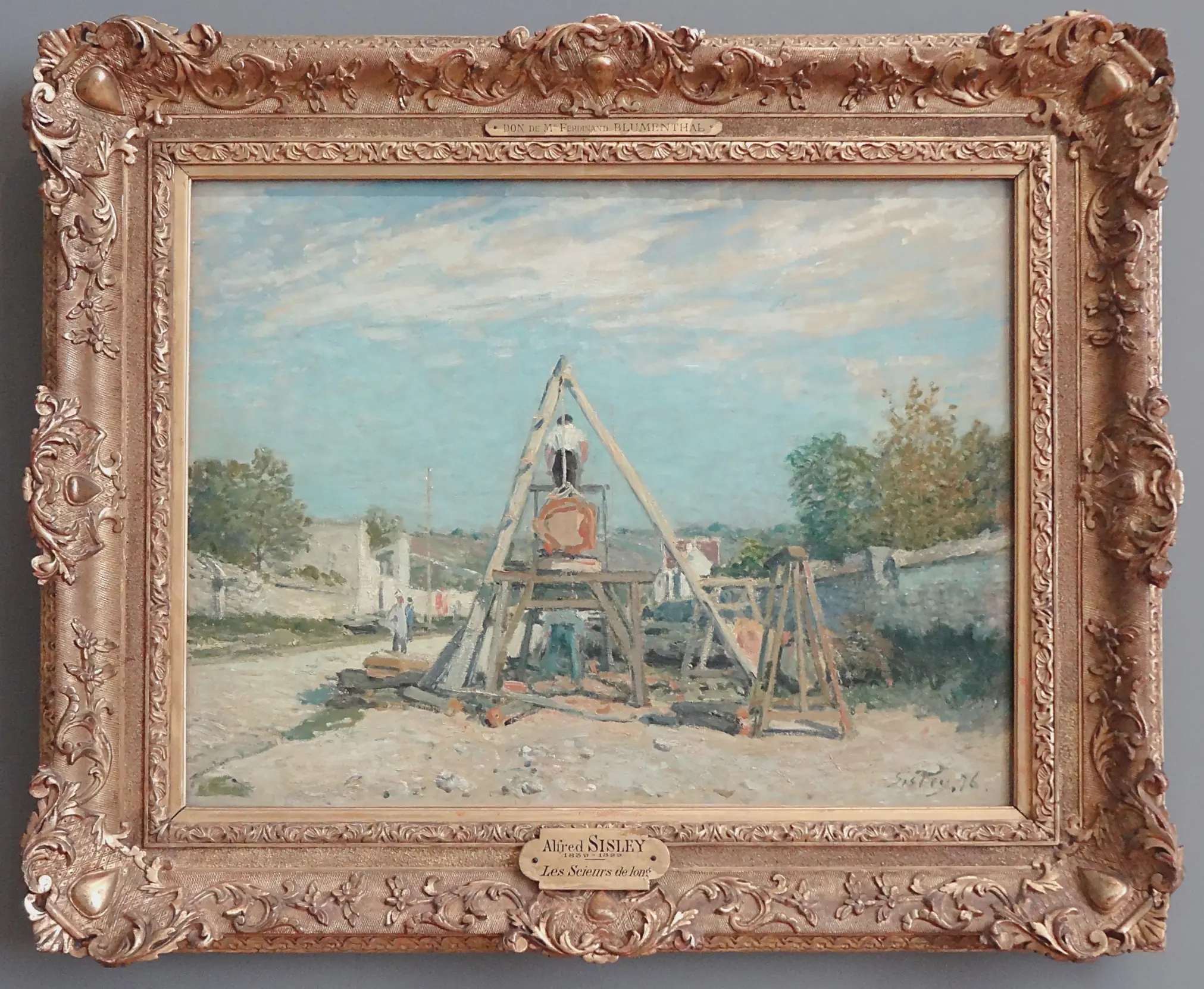 In this painting by Alfred Sisley, two sawyers seen from behind are cutting a tree trunk on a scaffold. A few passersby are observing them. The street is lined with walls partially concealing the houses. The vast blue sky adorned with clouds and the interplay of light on the road enhance the sense of immediacy. In 1876, Alfred Sisley lived in the small town of Marly-le-Roi, located southwest of Paris, near the Seine River, a place where he might have captured this scene. This painting was exhibited at the third Impressionist exhibition held at 6 rue Le Peltier in Paris in 1877. The exhibition featured prominent figures in this new form of expression, including Claude Monet, Pierre-Auguste Renoir, Paul Cézanne, Edgar Degas, Berthe Morisot, Camille Pissarro, and Gustave Caillebotte, among others.
The age-old trade of sawyers has its own specific terminology. The man at the top of the scaffold is called the "chevrier," "écureuil," or "singe" (goat, squirrel, or monkey), while the one below is known as the "renard" (fox) or "patron" (boss). The "renard" protects his eyes from sawdust with an old bag or a large hat. Standing on the log, which needs to be balanced by securing it to another log, the "chevrier" raises the saw, which then descends under its own weight, aided by the push of the "renard" positioned beneath the log. Thanks to this ingenious mechanism, two people are sufficient to efficiently complete the work.
Solid and refined, here is an authentic Auvergne piece of furniture, a testament to the folk art as it manifested itself in the 18th century in the southeastern part of the Massif Central, which at the time encompassed Velay and Brivadois. This wedding chest made of larch wood, originating from the region now known as Haute-Loire since the French Revolution, bears distinctive features that reveal the manner and spirit in which it was conceived. These features include:
– The thickness of the planks achieved through the ancestral skill of the sawyers, who cut "with the grain," meaning they saw along the length of the trunk following the direction of the fibers.
– Geometric decorations, molded diamonds, and triangles, borrowed from the Louis XIII style.
– Lobed motifs on the top crossbeam and pilasters, inspired by the Louis XIV style.
Prominently featured at the center of the facade is a blossoming heart. As a symbol of love and fertility, this heart attests to the occasion for which this chest was commissioned. It was ordered by a father for his daughter about to enter into matrimony. As per tradition, she carried her dowry inside, including household linen and personal effects – all constituting her sole luggage for a new life.
Dimensions:
Height: 76 cm, Width: 143 cm, Depth: 63 cm
Reference: [MP048]